New aluminium fixture plate
Today we received the aluminium fixture plate a friend of mine made. It's fantastic.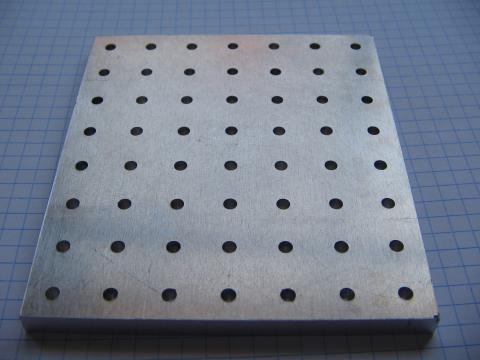 One of the things we have learned on the development of MKII is how important is to fix well the PCB to the printing bed.
We tried different solutions:.....
....clamps, 3D printed parts, plywood, springs, etc. but we were no satisfied with none of them.
We always though that the robot had to be able to print/drill precision two layers PCBs of different sizes. To reach this goal we needed a precision made fixture bed, so finally we decided to make one of aluminium.
As the robot is multi-functional we also needed something valid for the rest of tools. For example if we drill PCBs or other materials we don't want to drill our precious aluminium plate so we will need a sacrifice board between the PCB and the plate. For 3D printing the need is a clean polish surface, a piece of thin glass or a mirror is perfect.
So we designed something similar to a layer system using the fixture as a base and installing on it different "surfaces" or "skins" that you can install or remove very easily as you need.
A metal bed has also other advantages. For example it simplifies the bed auto-leveling calibration process. We designed a special tool we call Calibration Tool that is basically a metal probe that touch the aluminium bed to close a circuit (instead of using a switch) to calibrate the bed auto-leveling system. With this tool the robot takes some measure-points over the bed surface to auto-level the robot when it prints. It's very important for 3D printing but also if we want precision with any other tool.
So, the procedure we actually use is the following:
The first time we installed the printer we just calibrate the robot with the Calibration Tool and the naked aluminium fixture plate. (we only need to calibrate the printer one time because the firmware stores the calibration data in EPROM)
Then if we want to print a PCB we just install the plywood sacrifice board, the PCB to print and the glass (in that order). The glass protects  dry-film of over exposures (see MKI development)
Finally we remove the glass to drill vias and holes with the Drilling Tool (sacrifice board is still there)
And finally if we want to 3D print a plastic part we install the 3D Extruder Tool remove the sacrifice board and put the glass on touching the fixture plate (we can also put it on the sacrifice board no problem)