Madrid Maker Faire
This week we have't got time to write chapters of the tutorial because we have been invited to show TwinTeeth at the Madrid Mini Maker Faire. It is organized by Make magazine and the fantastic guys of eoodescubre. So we are very excited and busy preparing all the stuff to show what TwinTeeth can do. If you want to attend the event you will be welcome.
We want to show the best of TwinTeeth at the fair, so we designed new accessories: a filament Spool Holder and a Glass Support, both for 3D printing ToolHead. We will share the .stl files as soon as possible.
Here is the glass support with a 3D octopus on it: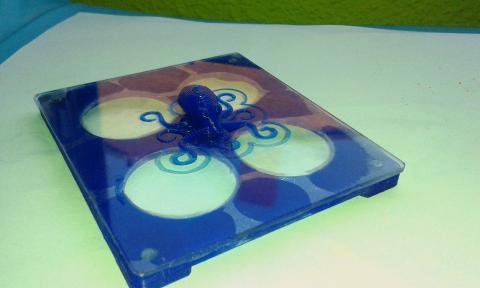 We have also found some bugs!
Yes, minor firmware defects which affected g-code parsing speed. They are already corrected and we will publish the new version probably next week.
More news:
We have finally reached an agreement with a metal artisan to make the aluminium platform kit for TwinTeeth. 
He already finished the testing phase and we will do the proof of testing at the faire.
The kit is composed by:
1 PC aluminium 70x80x5mm platform
1 PC Round stainless steel tube 20mm OD
1 PC aluminium 70x80x10mm template
8 PCs 2.5 x 8 mm precision pin
8 PCs 2.5 x 6 mm precision pin
The platform is CNC drilled with 56 x 2.5mm ID precision holes. On the back side it's milled to fit the 20mm OD tube. The template is just drilled with the 56 holes. It is used for drilling the four PCB holes and attach it to the platform with the pins.
This kit is only available upon request because we can not accept too many orders at a time. The artisan has other jobs and he can only produce some units per week.
If you are interested, please send us an e-mail.