PCB arrived
The PCB samples we ordered have arrived today. They have a professional look. We will build one and test it as soon as possible.
We ordered some PCBs to a professional manufacturer because we wanted to test if the circuit still works while reducing traces, clearances, vias and sizing. Usually the quality of this kind of services is far away from the quality we can obtain at home, even with the robot. But as the circuit is so sensible to electric noise we wanted to know if it works better in a proffesional way.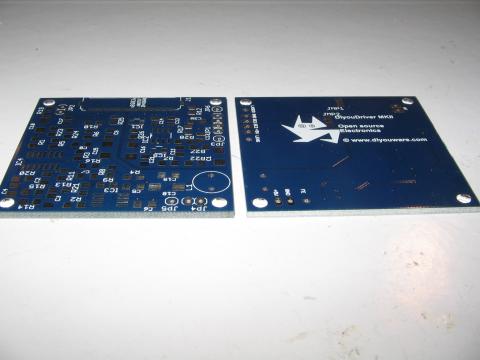 This PCB is based on the latest driver circuit version....
It allows controlling the three laser diodes although we only were able to focus with the UV and IR ones. Maybe if the new PCB reduces the noise level more than in the last prototype we would be able to reduce also the red laser power and focus with it. But it's only a hypothesis.
Anyway we tested focusing with the IR diode and it works very well.
We think maybe we would also print with the IR diode on an appropriate film. Professional photoplotters use IR light instead of UV to print PCB photo-masks. The benefit is that they can replicate the PCB multiple times using the same mask. UV laser and film are more suitable for direct printing.
We hope this will be the final PCB design. Next week we will repeat the test battery again to check printing quality.
Cross your fingers!!